It's no secret that dogs are man's best friend. And with Munros to climb, coastal paths to hike and gorse to snuffle, Scotland is the ideal place to go on a holiday with your dog.
But not all holiday rentals, hotels and lodges will welcome your dog with the same open arms you do at home. So, if you are planning on going on a holiday trip with your dog, the first thing to do is research dog-friendly accommodation.
As you take the high road and your dog trots briskly along beside you, here are some dog-friendly hotels in Loch Lomand and the Trossachs area to help you plan your vacation.
Roman Camp Hotel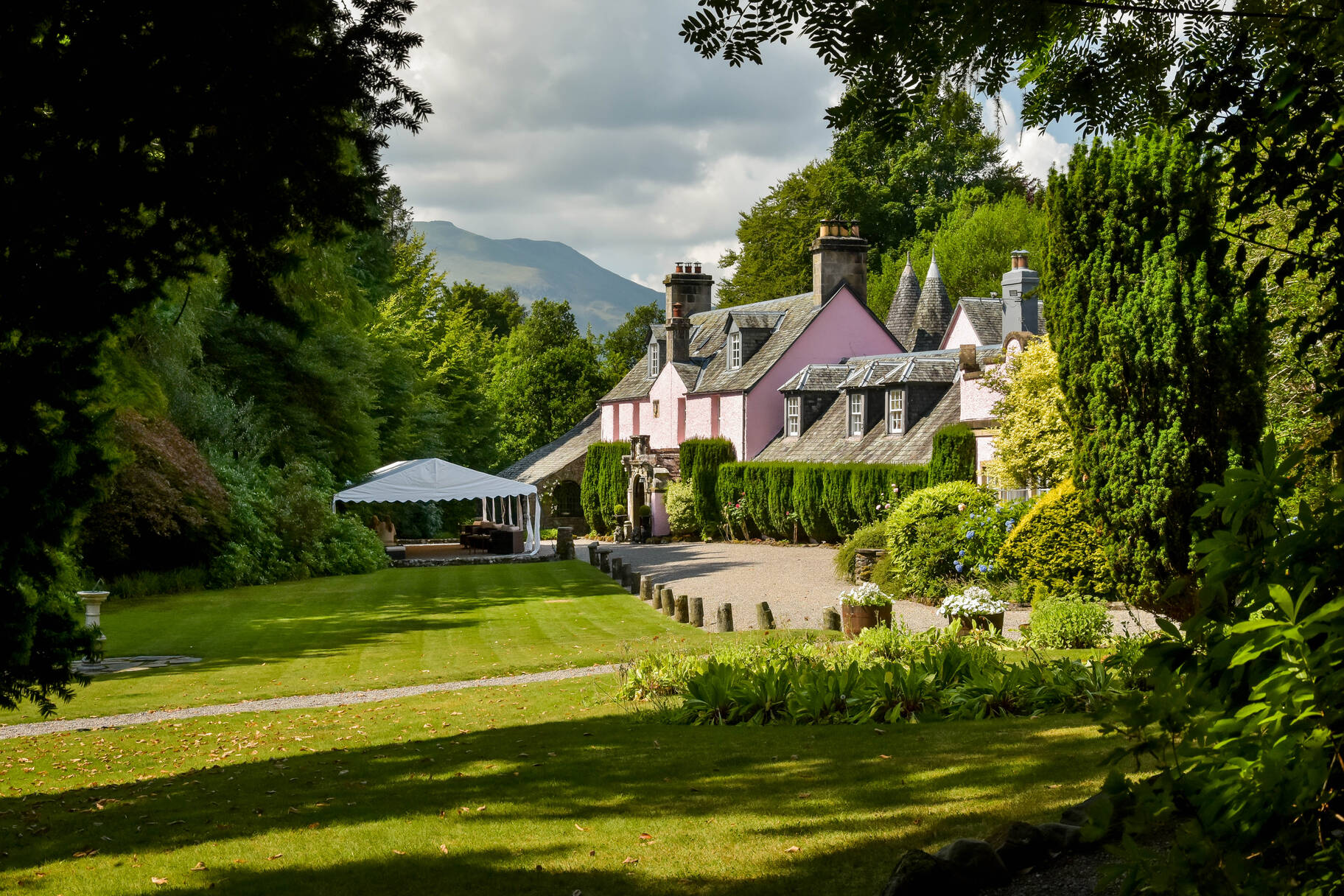 First on our list of dog-friendly hotels is the Roman Camp hotel. It sits on the River Teith and makes a wonderful operational base for humans and their dogs keen on outdoor activities like:
Hiking
Hill Walking
Canoeing
The hotel welcomes dogs and people and has an extensive garden for all to enjoy. More relaxed visitors can take advantage of the restaurant and high tea options, though your dog may prefer treats to scones.
The hotel is also perfectly situated to climb Munros, like:
Ben More
Ben Lomond
Ben Challum
But the Munros and the landscape aren't the only nearby attractions. The Roman Camp Hotel is also close to Stirling and Doune Castles, ensuring there's something for everyone to enjoy on your Loch Lomond and Tussochs holiday.
The Tarbet Hotel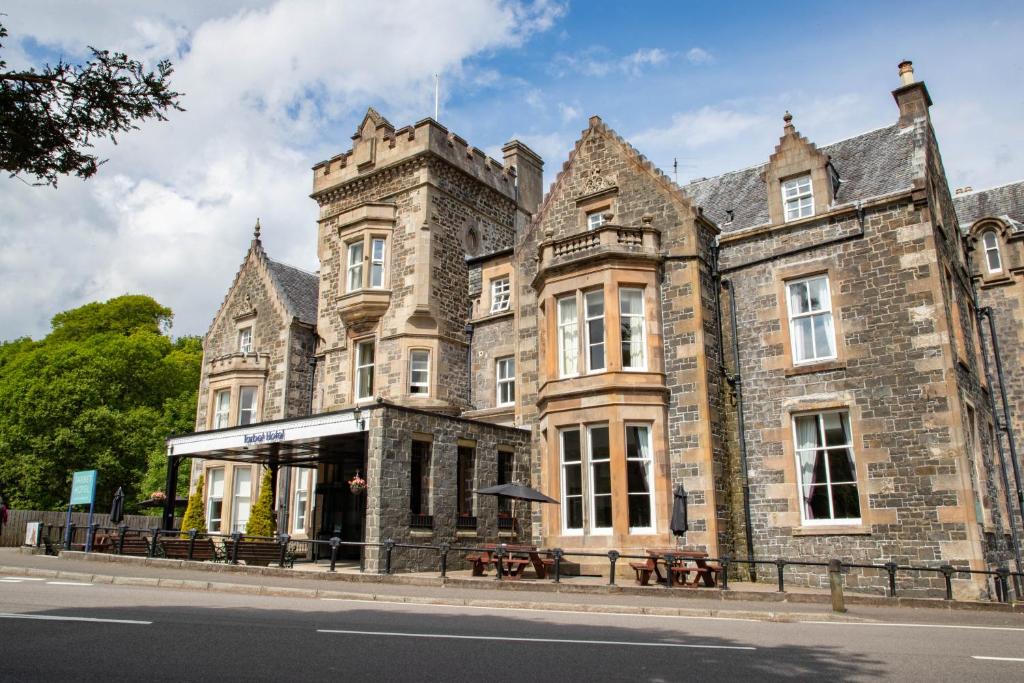 The Tarbet Hotel is another dog-friendly hotel near Loch Lomond and the Trossachs.
In addition to a restaurant, this hotel has several lounges, and a snack bar guests can enjoy.
It has a history stretching back several centuries to a baronial estate in the heart of Scotland.
There are various rooms for guests to choose from, including:
Standard
Standard Plus
Premium
Visitors who want to enjoy Loch Lomond's lovely scenery from their bedroom window should choose a Lake View room.
The Tarbet hotel is situated in Arrochar, where there are all kinds of outdoor activities to keep guests and their pets occupied. It's the perfect spot for mountaineers and bird-watchers, especially because Loch Lomond's many islands teem with wildlife.
Less intrepid explorers can enjoy the nearby Dumbarton Castle, which has a similarly rich history to the hotel.
Luss Cottages at Glenview 
The Luss Cottages at Glenview offer comfortable accommodation for you and your pets.
Luss is a Loch Lomond village located on the edge of the National park. While the village has much to offer, it's also a convenient stopping point for humans and dogs wanting to take in as much of the local area as possible.
From Luss Cottages, you can quickly find your way to fishing and boating excursions or take long walks with your dog through the surrounding countryside.
Luss Cottages offers a B&B-style accommodation, as well as self-catering for guests with dogs. All Luss Cottages are accessible, as well as dog-friendly, ensuring everyone can enjoy Luss Cottages.
Additionally, the self-catering accommodation offers a healthy selection of continental breakfast supplies for guests that enjoy an early start to their day.
Loch Lomond Finnich Cottages 
The Loch Lomond Finnich Cottages are another dog-friendly accommodation. They overlook over 13 miles of stunning scenery and sit in the seclusion of an old steading.
Despite the privacy of Finnich Cottages, it's a short trip into Stirlingshire to visit the villages of Drymen and Killearn. Dogs and owners looking for a busier holiday will appreciate that Glasgow isn't far-off, either.
Guests love many of Finnich Cottages' attributes, but the most highly praised is its combination of old-world style with modern convenience.
All cottages retain their traditional character and blend naturally into the surrounding landscape. But you can also enjoy the games room or the Wi-Fi in rainy weather when your dog suffers from wet belly syndrome and declines to go out for a walk.
Auchendennan Luxury Self-Catering Cottages 
One of the more distinctive features of the Auchendennan Luxury Self-Catering Cottages is that the first dog you book to bring along with you goes for free. This is ideal for multi-dog homes that want to take their pets with them but worry about paying multiple pet supplement fees.
But Auchendennan's love of dogs isn't the only thing to recommend. The self-catering cottages are close to the town of Balloch, where there's a variety of restaurants and activities to take advantage of.
Auchendennan's proximity to Loch Lomond and the Trossachs also makes it convenient for outdoor activities like Canadian canoeing or fishing. Those wanting to venture further afield will appreciate the proximity of Luss and Helensburgh.
Alternatively, you and your dog can stick close to home and enjoy the extensive garden area. In addition to the expansive public garden, each cottage has a private garden for guests to enjoy.
The self-catering cottages come with many modern conveniences, like:
Egyptian cotton linens/towels
Log burners
Private hot tubs
The cottages are easy to access, whether you come by train or plane. All are a 20-minute drive from the Glasgow International Airport or a 2-mile drive from the Ballach railway station.
Non-drivers will find taxis regularly available and affordable.
Loch Lomond Luxury Lodges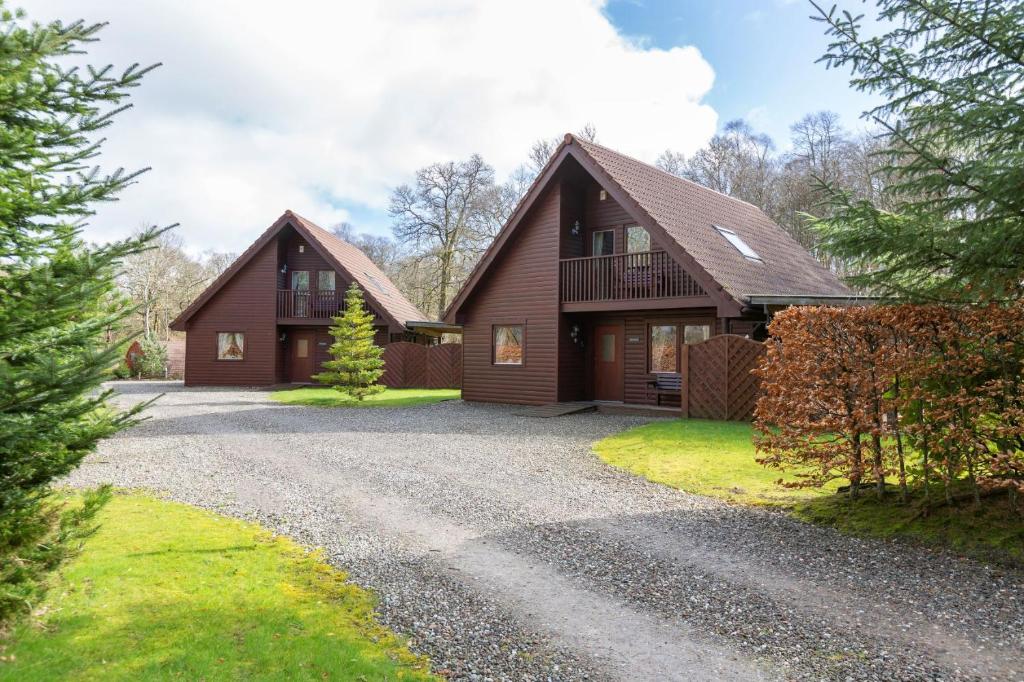 The Loch Lomond Luxury Lodges are another self-catering dog-friendly hotel in the Loch Lomond area. If you don't mind preparing your own meals, then the Loch Lomond Luxury Lodges make an excellent accommodation option.
Situated in the heart of scenic Loch Lomond and the Trossachs, the lodges are close to various tourist attractions, such as:
National Park
Aquarium
Island of Inchmurrin
And, of course, you're never too far from the famous banks of Loch Lomond.
There are various lodges to choose from, and they come with different levels of luxury and space depending on what you and your canine friend are looking for. Among others, these include:
Secret apartment
Wee Oak Tree Lodge
Wee Acorn Lodge
Ptarmigan Lodge Apartment
Alderdale B&B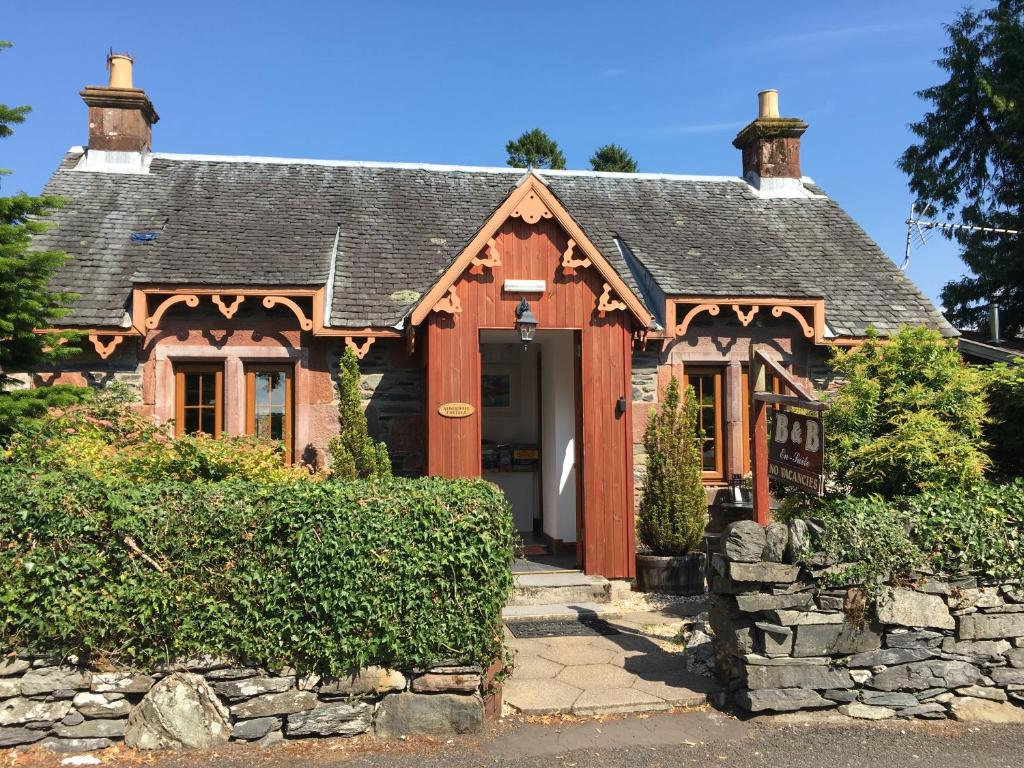 The Alderdale B&B, located in Luss, is another dog-friendly hotel or guest house. It overlooks Loch Lomon and its rooms have spectacular views of Ben Lomond.
Set in the heart of Luss, visitors will have no trouble visiting the nearby attractions of walking the shores of Lake Lomond. It's also close to the Lodge on Loch Lomond. Visitors attending weddings at this location often enjoy staying at the Alderdale as an affordable overnight or weekend bed and breakfast.
Luss also boasts a selection of restaurants, so you won't have trouble finding somewhere for dinner. Visitors' favourites include:
The Coach House Coffee Shop
The Village Rest
The Village Rest has the further advantage of being next door to the Alderdale.
It's easy to reach from Glasgow airport, but you must book ahead. The Alderdale has two en suite rooms and depending on the time of year, they fill up quickly.
Rosebank House B&B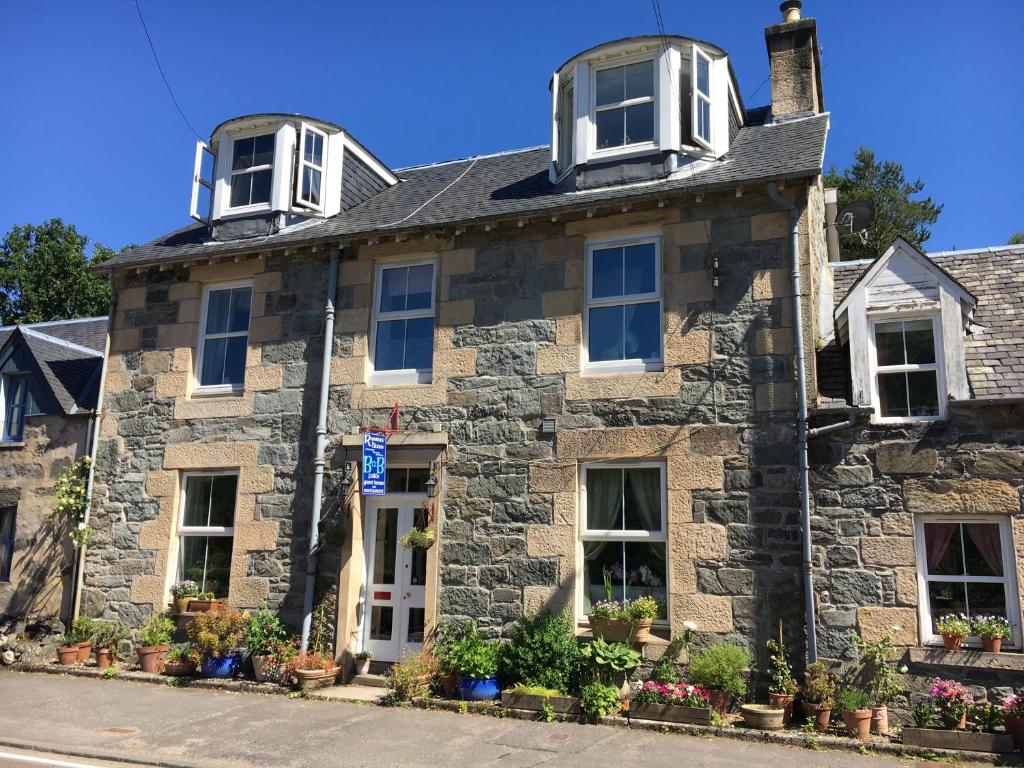 The Rosebank House Bed and Breakfast is a beautiful B&B in the heart of The Trossachs' National Park. It has a long history of accommodating travellers and began life as a boarding house in 1874.
Today, it's a charming dog-friendly bed and breakfast that does its best to reduce its carbon footprint. In addition to the park's natural beauty, visitors will notice the chickens that keep the B&B in eggs and the polytunnels where some of the food grows.
It's a wonderful dog-friendly hotel option because there are hiking trails and lakes and forests full of interesting smells for dogs, all of which are worth exploring.
The Rosebank has five rooms, and each has a distinctive view, ranging from Scottish mountainsides to placid rivers. The rooms are all en suite and cater to families of varying sizes. Options include rooms with twin, king or king and single beds.
Visitors can explore the park thoroughly or take day trips out to other popular attractions in Stirling and Glasgow. Also, note that the limited number of rooms makes it vital that you remember to book ahead.
Inverardran Guest House 
The Inverardran Guest House offers both Bed and Breakfast as well as self-catering accommodation. The business has a long history as a B&B but has been run by the present couple since 1992. 
They take care to ensure guests enjoy their stay, not only sourcing local produce for hearty breakfasts but offering accommodation that welcomes your dog with the rest of the family.
Inverardran guest house is 300 miles east of Crianlarich, deep in the heart of Loch Lomond and the Trossachs. Despite this, it's a short walk to the local shops and eateries. 
There are four rooms in the main house, and all have magnificent views of the countryside, as well as en suite bathrooms. The rooms vary in size. Some can accommodate a cot while others feature twin beds instead of doubles. All include features such as:
Wi-Fi
Television
Kettle and tea/coffee accoutrements
The self-catering cottage easily accommodates 4 people and their pets. Like the B&B rooms, Wi-Fi, television and tea-things are readily accessible. But there's also a lounge and kitchen area that gives guests more independence and privacy.
Notably, because of the extra precautions needed to run the cottage during the pandemic, the cost of a single night is higher than before. However, this is only true of one-night stays. Visitors who choose to stay at this dog-friendly hotel alternative for two or more nights receive a discounted rate that reduces the price to its pre-covid cost.
So, telephone ahead and speak to the managers about planning your stay.
Gowanlea Guest House 
The Gowanlea Guest House is another wonderful option when it comes to dog-friendly hotels in Loch Lomond. It's part of the town of Balloch and offers easy access to the shores of Loch Lomond and the surrounding Trossachs.
Gowanlea is also close to several impressive local attractions, including Ballach Castle, a 19th-century palace.
It's also close to:
Falls of Falloch
Balloch Park
Both are excellent excursions for you and an adventurous dog.
Gowanlea also offers various conveniences in each room, including:
Electric kettle
Flat-screen tv and satellite channels
Ironing facilities
There are two room types. The elegant double offers visitors a view of the landscape and the comfort of a double bed. The double room gives visitors a choice of two single beds or a double bed, in addition to a garden view.
Guests consistently praise the helpfulness of the hosts and the cleanliness of the rooms.
While it's possible to book online through booking websites like TripAdvisor, it's less expensive to go through the business directly. So, if you want to holiday at this dog-friendly hotel, it's best to telephone or email the guest house.
Nairoo 
Nairoo is another dog-friendly hotel accommodation option. Like Gowanlea, it's close to Balloch Castle and Balloch Park. The former is excellent for a reprieve from dreich and Scottish weather, while the latter makes an excellent outing for man and dog. 
There are two bedrooms, and various amenities to guarantee guests' comfort. The kitchen and dining area are ideal for guests who enjoy the independence of self-catered accommodation. Nairoo also includes parking, so you won't have to worry about where to leave the car when you arrive.
Other benefits include:
Barbeque
Flat-screen tv with satellite channels
Dishwasher and fully equipped kitchen
Of the two bedrooms, one includes an en suite shower. Visitors particularly appreciated the private garden, as somewhere for people and dogs to enjoy the weather and have their meals.
Conclusion
There are various dog-friendly hotels in Loch Lomond and the Trossachs. Finding a place that meets your needs will depend on the location, rates and availability in the area you choose.
Since it's often more cost-effective to book through businesses directly, we recommend reaching out to local business owners and booking your stay that way.
Finally, don't forget that even dog-friendly hotels may ask for a supplementary charge to cover the extra cleaning that comes with having a pet in a room.
And when you do find that dog-friendly hotel room that meets your criteria, pack your case, harness the dog and enjoy your holiday. 
For more inspiration, why not also check out this awesome guide to the best luxury dog-friendly cottages in the UK.