Do yourself a favour and spend quality time in Scotland's first national park. Established in 2002, Loch Lomond and The Trossachs National Park is a beautiful escape from the stresses of everyday life. 
Visiting the park allows you ample opportunities to hike, explore, or simply soak in the marvellous nature of over 20 lochs, the hills and glens of the Trossachs, and the lovely scenery of southern Scotland.
Camping is the best way to experience the national park, and motorhome parks in Loch Lomond are abundant and easily accessible. So don't put off your holiday plans any longer. Grab the children, jump in the camper, and start on your adventure.
Motorhome Parks in Loch Lomond
When you need to find a quality option for your motorhome or campervan holiday, consider heading to one of these parks in Loch Lomond and The Trossachs:
Loch Lomond Holiday Park

Sandylands Holiday Park

Edenmill Campsite

Glendaruel Caravan Park

Three Lochs Forest Drive

Cobleland Campsite

Callander Woods Holiday Park

South Whittlieburn Farm

Milarrochy Bay Club Site

Keltie Bridge Caravan Park

Tarbert Holiday Park

Braidhaugh Holiday Park

Lomond Woods Holiday Park
Any one of these delightful options will serve beautifully as your home for a few days away from the bustle of everyday life.
Loch Lomond Holiday Park
The Loch Lomond Holiday Park is an attractive option for staying around Inveruglas, sitting right on the banks of the same Loch Lomond, after which the park is named. The holiday park is a beautiful spot for families or romantic weekends.
You won't run out of things to do when you stay here. There are plenty of entertaining water sports to keep you occupied, and the hiking in the area is marvellous. You can even bring your four-legged friends along if you'd like.
If you decide to pack up for a long weekend in Inveruglas, make sure you spend some quality time enjoying the beautiful nature of the loch. If you want to relax in style, you can take a load off in a loch-side hot tub.
Sandylands Holiday Park
Located in the lovely county of Ayrshire, famous for its dairy cattle, you'll find the Sandylands Holiday Park. Here you can enjoy the solitude of nature near the lochs, either in a motorhome or a tent if you prefer.
And when you get tired of cooking over a campfire, you can quickly make your way to nearby Ayr, Largs, or Glasgow. There you'll find many restaurants and taverns to choose from before heading back to the wilderness for the night.
If you decide to stay at the park for your entire trip, don't worry about getting bored. There is so much to do on the property that you won't have time to fit it all in. And with the beach nearby, there's always a water-side escape for you when you need it.
Edenmill Campsite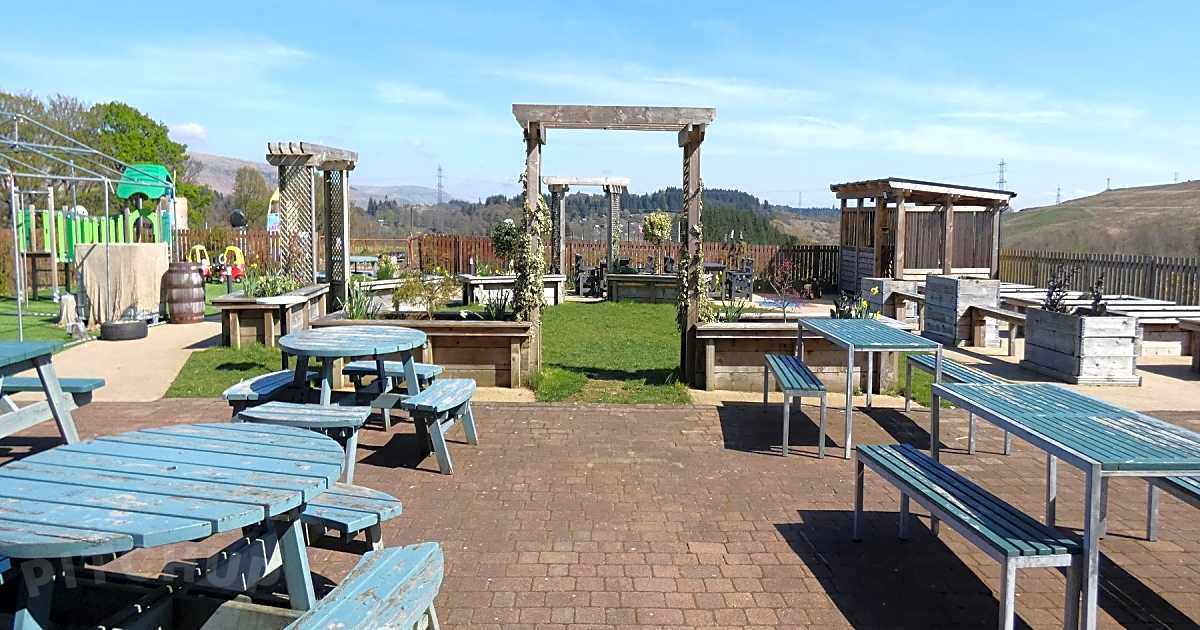 Edenmill is a lovely, family-friendly, comfortable location for your holiday in the lochs and hills. Situated in the picturesque rural community of Stirlingshire, you'll find yourself only a mile from Carbeth and a short distance from Glasgow.
Nestled between the Campsie Falls and the national park, the Edenmill Campsite is a lovely place to spend a weekend away. Whether travelling alone, with your lover, or with the whole family, you'll undoubtedly find something that keeps you occupied.
Make sure you check out the hiking trails while in the area. The John Muir Way and West Highland Way are conveniently located for easy access. The cafe on-site is an easy option for anyone who doesn't feel like scrounging for their meals.
Glendaruel Caravan Park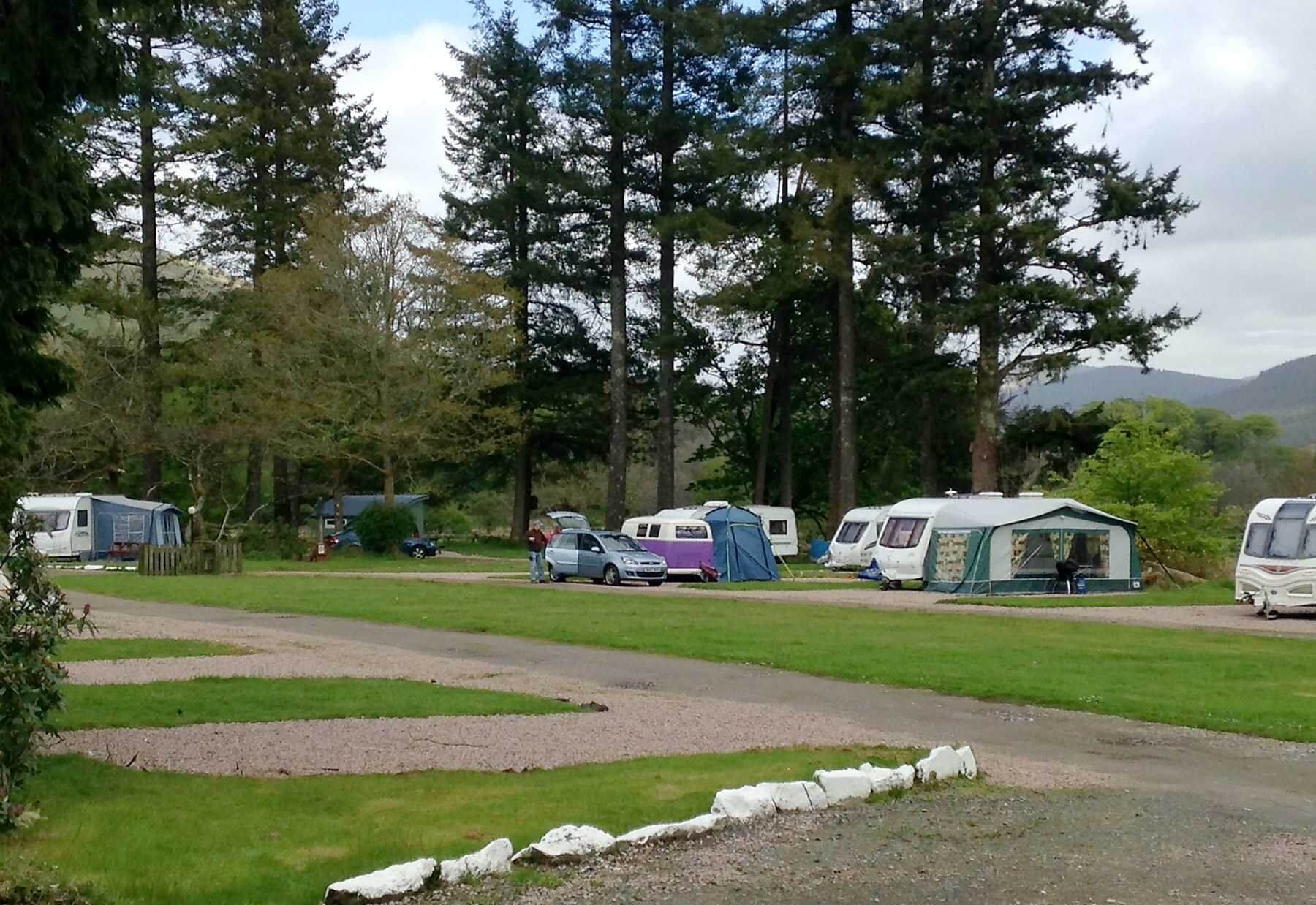 There are few spots as naturally gorgeous as the Cowal Peninsula. And since the Glendaruel Caravan Park is situated close to Argyll, you'll have plenty of exciting places to explore while in the wilderness.
The park is a great place to enjoy 22 acres of woodland and wildlife. Open from the beginning of April to the end of October; you can stay all weekend or just stop for an overnight camp on your way through.
Glendaruel is an excellent location to make a home base while exploring the vast reaches of Scotland's hiking trails. The Loch Lomond and Cowal Way pass right by the park, making it the perfect spot for outdoor adventuring.
Three Lochs Forest Drive
Three Lochs Forest Drive is a seven-mile scenic drive that takes you past Lochan Reódhte, Loch Drunkie, and Loch Achray. These gorgeous lochs represent what life is all about on the Scottish lochs.
While the drive won't take you too long to complete, you might find it difficult to leave once you arrive. So you might as well set up camp for the night and take some extra time to spend in the great outdoors.
If you're a fan of fishing, you can cast a reel at Loch Drunkie or Loch Achray. They are both popular locations for anglers of all ages. 
Cobleland Campsite
Open from early April to mid-October; you will love your time at Cobeland Campsite next to River Forth. Just a stone's throw from Aberfoyle and Stirling, you won't run out of things to do when you set up camp at Cobleland. 
Situated in Queen Elizabeth Forest Park, there are plenty of fun outdoor activities to keep you occupied on your trip. And if you bring the children along, they can enjoy the glories of the Scottish wilderness.
Your holiday couldn't have a more beautiful backdrop. The countryside is ideal, making it a marvelous spot to park your campervan for a day or two.
And because you're close to some of the best hikes and views, you'll likely want to stay a little longer than you planned.
Callander Woods Holiday Park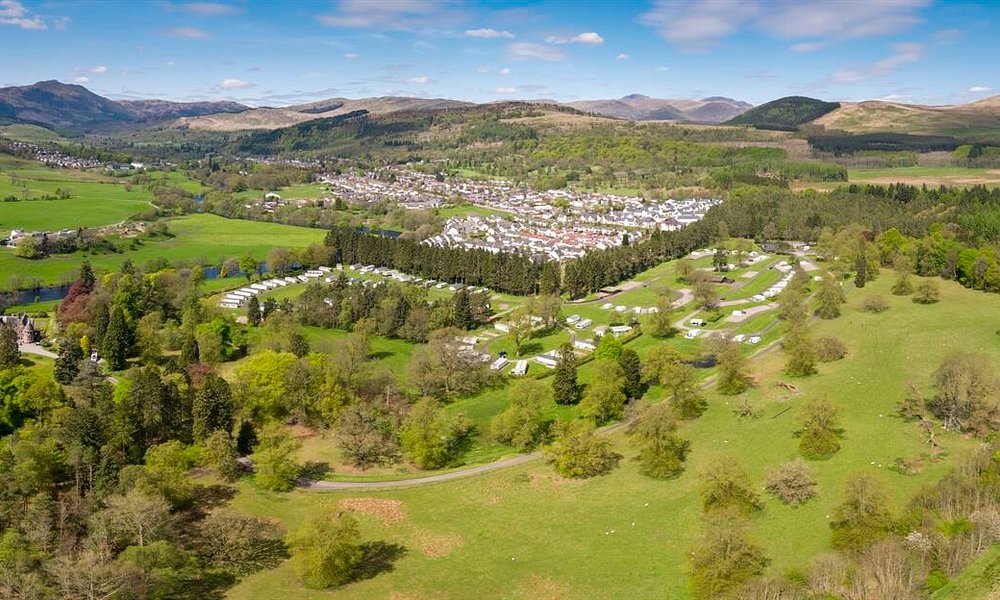 One of the best campervan parks open year-round in Loch Lomond and The Trossachs National Park is the Callander Woods Holiday Park. You can bring your camper or enjoy one of their caravan lodges.
Situated next to the tourist town called Callander, a holiday park is an excellent option for anyone looking to escape real life for a time and put their feet up for a bit. From here, you can explore the Scottish Highlands.
The park sits next to the Birds of Prey Trail, a large loop that links some of the best places to see incredible wildlife. And since it's close to the Bracklinn Falls and Loch Katrine, you can explore the water life of Scotland without going too far from your home base.
South Whittlieburn Farm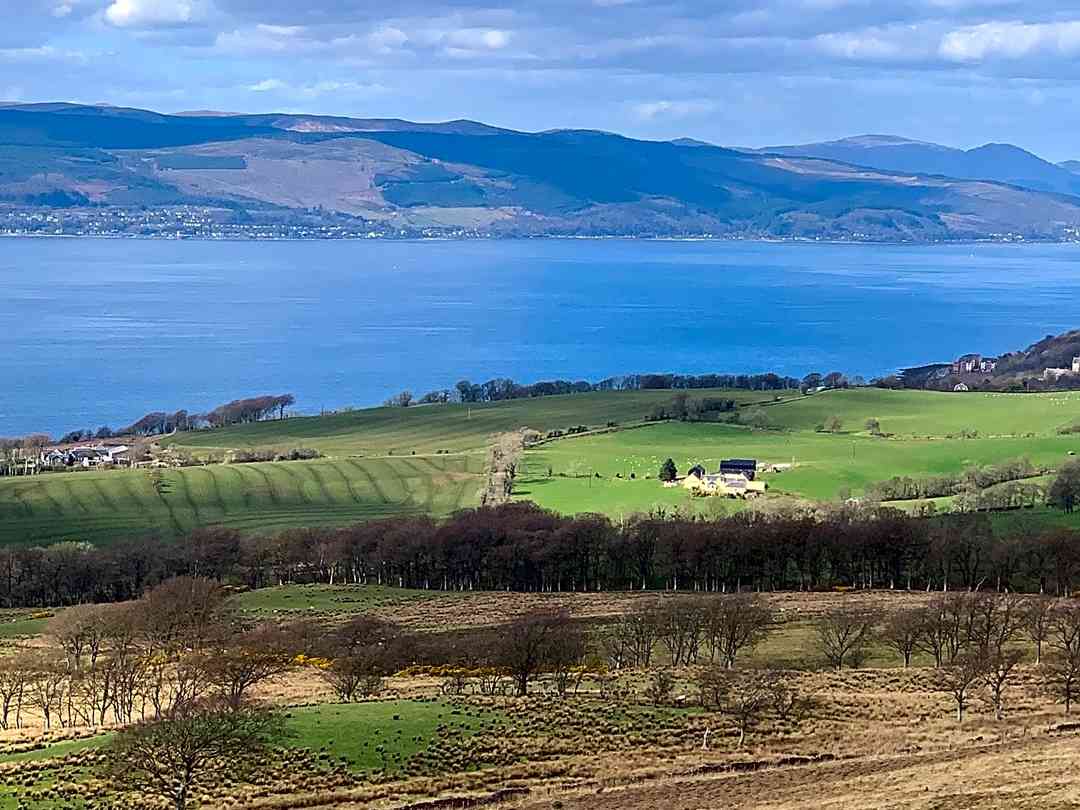 Whether you prefer camping in a motorhome or pitching a tent, you can do both at South Whittlieburn Farm's family-run.
You'll find a wide array of exciting opportunities to enjoy the outdoors at the farm. From the equestrian outings to the sheep farm on the property, you'll realize that nature has never felt closer.
Located in Brisbane Glen, the South Whittlieburn Farm is the perfect spot for a long-term holiday or a quick weekend away.
You can hike through gorges, rent a mountain bike, or go sailing at Largs. Some of the best sailing that Scotland offers is in the area.
Milarrochy Bay Club Site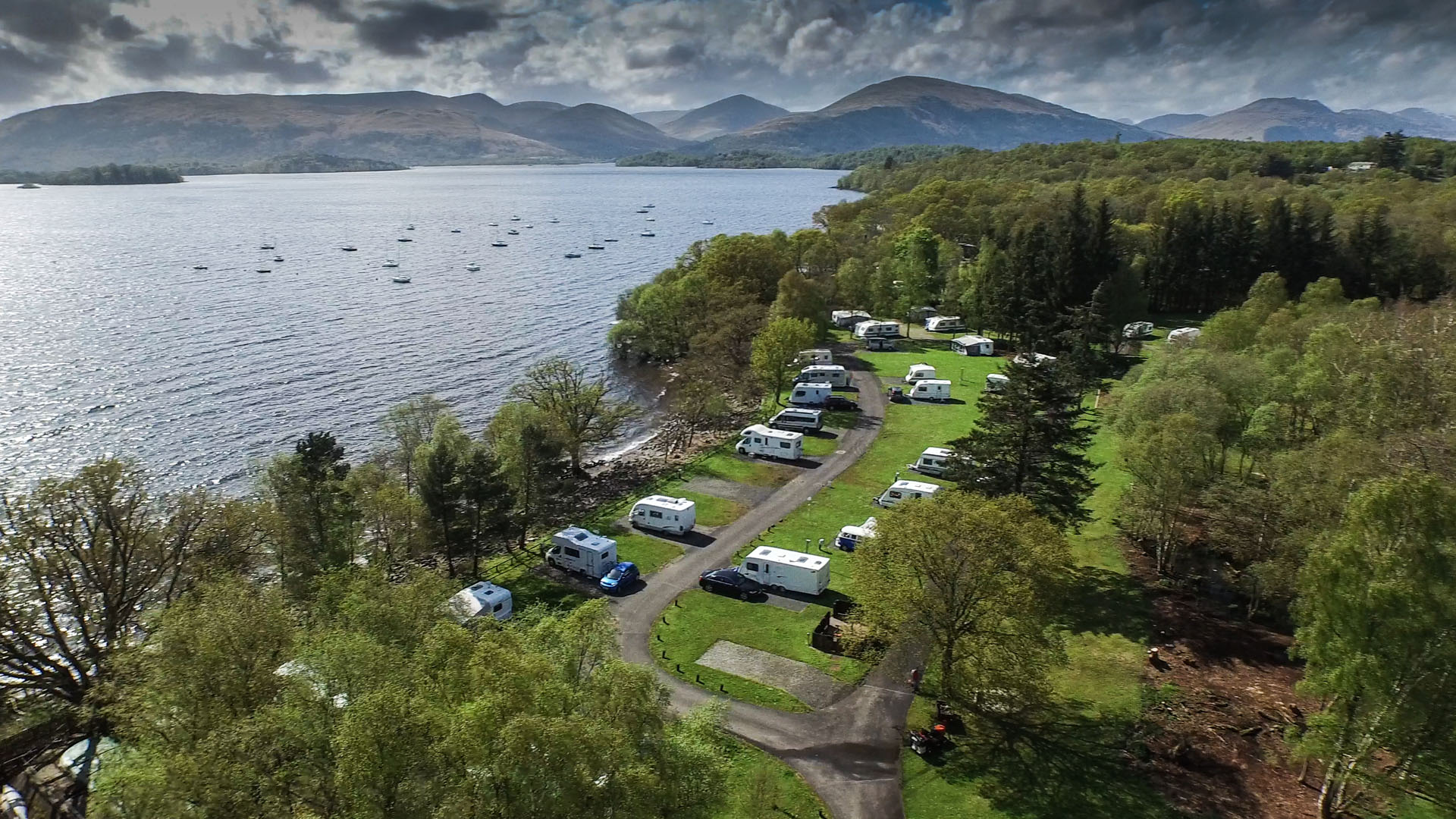 The club site at Milarrochy Bay is an excellent place to park your campervan and spend your holiday right on the shores of Loch Lomond next to other adventurers. You can't find a better location than Milarrochy Bay.
The park has the necessary facilities to make your stay comfortable and homey, including showers and flushing toilets. The facilities are clean, ensuring that you'll enjoy your holiday without any hiccups.
If you're considering a camping holiday in Scotland, you must put Milarrochy Bay Club Site on your list. The prices are reasonable, the people are friendly, and the views are stunning.
Keltie Bridge Caravan Park
When you want the friendly feel of a small family operation, then Keltie Bridge Caravan Park is probably one of your best choices. Camping near the tourist town of Callander is a fantastic way to spend a few days with the family. 
You'll probably make some friends from the playground at the covered picnic tables while on holiday. The people are friendly, the staff is welcoming, and the scenery is impossible to beat.
Listed as one of Scotland's top parks to visit, you won't be disappointed with your decision to park your motorhome at one of the many spots the Keltie Bridge always has open. It also received a certificate of excellence in 2020 from TripAdvisor.
Tarbert Holiday Park
If you're looking for a place to call home while you hike, explore, kayak, and fish in the great Scottish outdoors, the Tarbert Holiday Park is an excellent choice. You won't waste your holiday when you spend it here.
There are plenty of spots for campervans and motorhomes and glamping pods you can rent if you're feeling particularly adventurous.
The park has an excellent facility for paddlesports. You can go it alone or hire a coach to talk you through becoming an expert. Either way, you won't regret picking Tarbert Holiday Park as your holiday destination.
Braidhaugh Holiday Park
Taking a holiday is all about enjoying the comfort and relaxation of the world around you. And a great place to do that is right on the banks of one of Scotland's most scenic rivers.
Not too far from the famous market town of Crieff, on the River Earn, you'll find Braidhaugh Holiday Park. At the park, you can rent mountain bikes, go horseback riding, or hike through the hills of Scotland.
It's an excellent place for the whole family, but it's particularly relaxing for a romantic weekend away. Take your special someone on a camping adventure to experience genuine excitement and the thrill of the outdoors. 
Lomond Woods Holiday Park
Have you ever wanted to stay at a five-star holiday park in Loch Lomond and The Trossachs National Park? Not only is the scenery profound, but the location is perfect, with easy access to Loch Lomond itself.
The quality of service at Lomond Woods Holiday Park is one of the features that makes it so popular. The park has received certificates of excellence in service and the quality of its facilities.
You're less than 20 miles from Glasgow, meaning you can easily escape to the city for a night out if you want to do something interesting. And there's plenty of kayaking, mountain biking, and hiking to keep you occupied otherwise.
Final Thoughts
Campervan or motorhome camping is an exciting way to spend the weekend or an extended holiday. Whether you've got the kids coming with you or looking for a romantic getaway, camping is always an option.
And one of these unique locations along many of Scotland's best lochs will give you the perfect backdrop for your memorable holiday.