On its surface, Balloch appears to be a sleepy rural town on the south shores of world-renowned Loch Lomond, but it is so much more.
Balloch is an outdoor-lovers paradise with hiking, biking, and climbing activities. The town is a gateway to one of the most beautiful regions in the world, providing easy access to Loch Lomond & Trossachs National Park, incorporating stunning views of Loch Lomond and surrounding rolling farmlands and hillsides. There is also an eclectic range of wildlife.
With no shortage of history, art, and family-friendly amenities to complement the gorgeous scenery, Balloch offers a little something for everyone.
Here is a list of suggestions for some of the best things to do in Balloch.
Scotland's Wild Tours
What is one of the best things to do in Balloch? How about a little bit of everything?
Loch Lomond offers tons of stunning natural beauty and hidden treasures. However, you'll have to search long and hard to find a better way to explore the surrounding area than booking an active sightseeing tour with Scotland's Wild. There is a lot to cover, and enlisting the help of a local guide can help ensure you cover all your bases.
You can customise your tour of choice to match your interests with many different offerings. For outdoor lovers, excursions to Loch Lomond and Trossachs National Park or Highlands and Glencoe will offer some of the best hiking and views in the region.
Those looking to get a better sense of local history and culture might enjoy the Standing Stones Castles, West Highlands, or the Stirling Castle, Loch Lomond & Whisky tour.
Scotland's Wild Tours are a great way to take in the surrounding area with many exciting options.
Balloch Castle Country Park
No trip to Balloch is complete without a trip to the Balloch Castle Country Park, which offers the perfect mixture of local history and scenery.
Balloch Castle was rebuilt in the early 18th century, while its earlier iteration dates back to the 12th century. While access to the interior is limited, it is still well worth the trip, with plenty to explore from the outside. The castle sits atop a hillside with excellent views of Loch Lomond, hillsides, and woodlands.
The surrounding country park encompasses over 200-acres of woodland, footpaths, shoreline, and rolling meadows. Highlighted features include Fairy Glen, Quarry Pond, and Secret Garden. The park is also home to Loch Lomond Highland Games and serves as a concert venue for some big headliners every summer.
Maid of the Loch
There are many boat tours and vessels on Loch Lomond, but none quite like Maid of the Loch, Loch Lomond's last paddle steamer, a style of boat popularised during the 1800s. Maid of the Loch launched in 1953, but it was torn down and reassembled to get the vessel to Loch Lomond.
Maid of the Loch has proudly serviced lake tours for three decades. While it has been under repair in recent years, visitors can still come aboard and tour the vessel. It is docked at Balloch pier year-round.
If you are looking to take a step back in time, climb aboard and explore a fundamental piece of UK history.
Loch Lomond Birds of Prey Centre
If you are looking for one of the more remarkable things to do in Balloch, the Loch Lomond Birds of Prey Centre is a great option to consider. Located in the loch-side woodland right along the Lomond shoreline, it offers guests some excellent views, and the unique layout makes for a memorable outing. It is a perfect daily excursion for both families and animal lovers.
The park showcases many exotic bird species, including red-tailed hawks, golden eagles, vultures, falcons, and owls. The interactive live flying shows simulates bird in their natural setting, giving guests an idea of their tendencies/behaviours in the wild.
In addition to shows, the park also features other experiences that you can book ahead of time. Some top draws include Hawk Walk, Owl Encounter, and Hunting Expedition. In addition, guests can meet individual birds and learn about them through up-close educational sessions.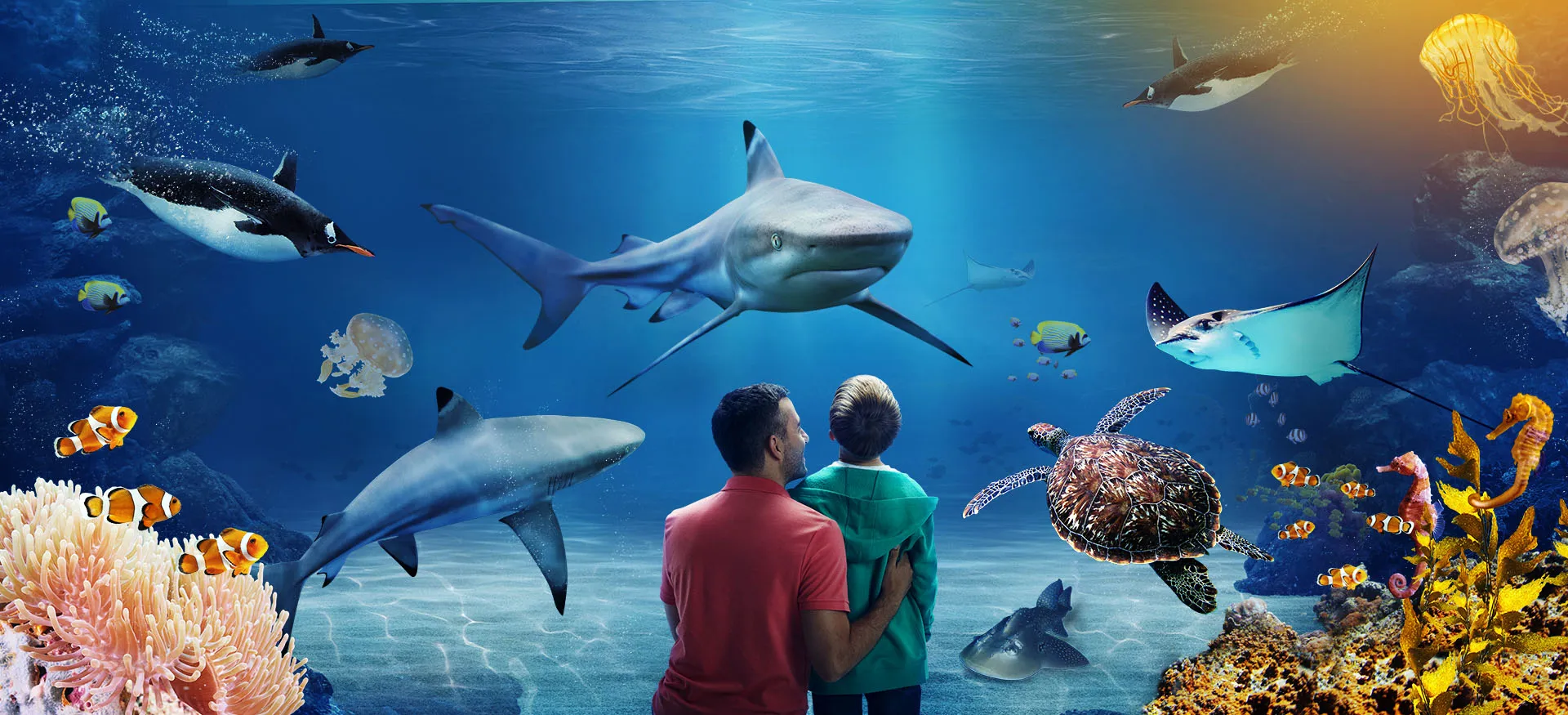 Sea Life Loch Lomond Aquarium 
The Sea Life Loch Lomond Aquarium is another one of the best things to do in Balloch for families. The aquarium is home to many different species of ocean life and provides a fully immersive experience for visitors who get an up-close look through tanks of varying sizes.
Another standout is the walk-through ocean tunnel which features panoramic views of sharks and sea turtles swimming overhead.
Several different zones highlight different aquatic themes, including the Lochs of Scotland, which houses native species. Other sea life found throughout the aquarium include otters, stingrays, seahorses, and rockpool creatures.
Sea Life Loch Lomond hosts family events throughout the year, including Peppa Pig which offers a fun tour of the aquarium for children along with visual games and activities. A trip to the aquarium is an excellent way to take a short break from the outdoors while still getting your animal fix.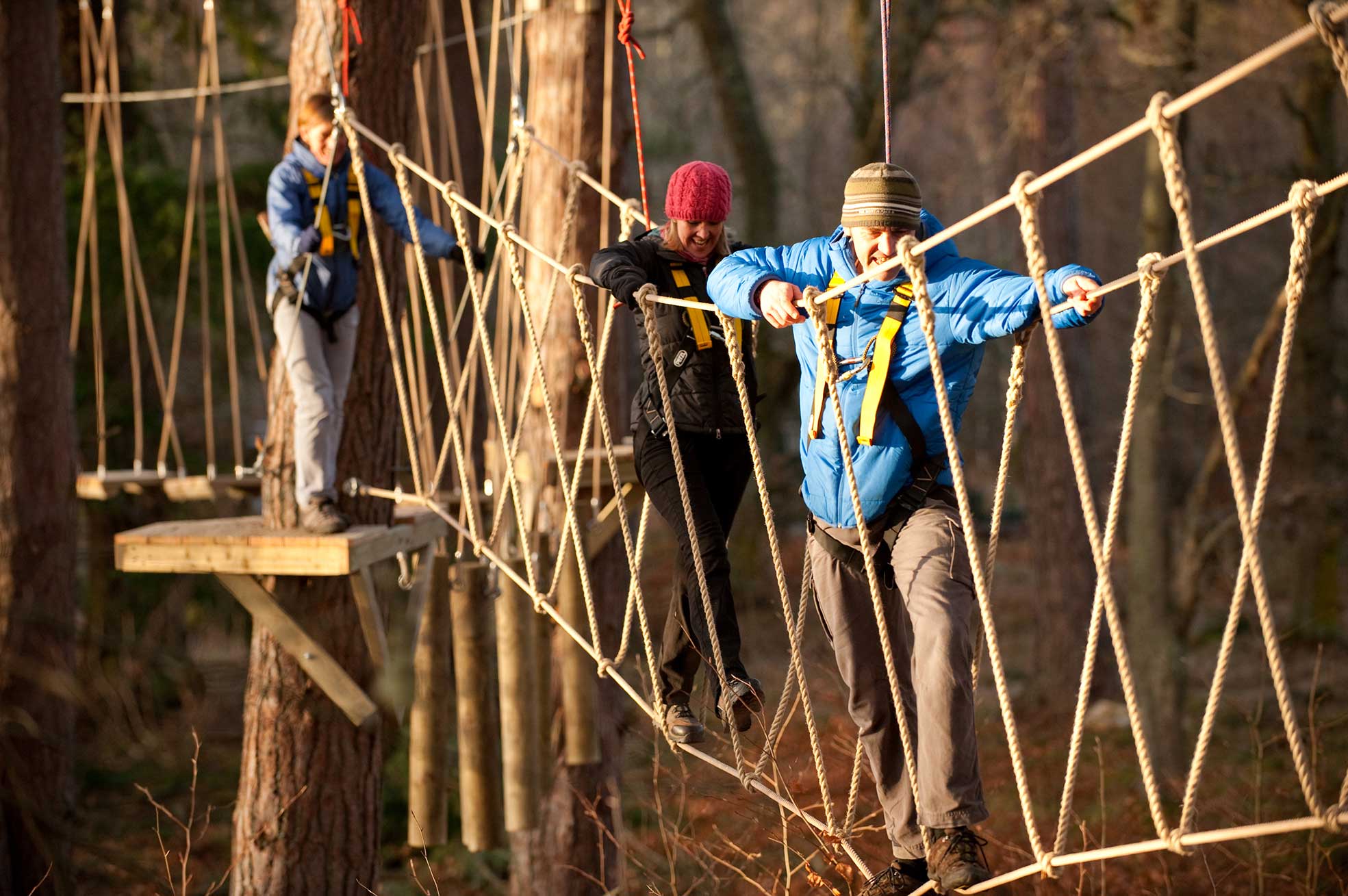 Tree Zone Loch Lomond
Tree Zone Loch Lomond is an aerial adventure course that features an assortment of fun activities for all age ranges. Highlights of the park include zip lining, tight-ropes, and hanging platforms. Other adrenaline-packed activities involve obstacle-filled courses, including the Treecreeper and the Buzzard.
While Tree Zone is an excellent option for thrill-seekers, there are also plenty of modified courses and activities for those that are less inclined. Other activities at the park include axe throwing, highland games, bushcraft skills, and guided walks. You can browse plenty of different group packages on their website to find the latest deals and promotions.
Loch Lomond is also a spectacular backdrop to cap off your experience. If you are looking for outdoor activities, you can't beat the range Tree Zone provides.
Conic Hill
If you are looking for hiking options in the region, you will be hardpressed to find a better view than along the Conic Hill trail. A significant aspect of the hike is that you don't even need to reach the top to reap the reward of a scenic viewpoint.
As you ascend, the surrounding region comes into view, including views of Loch Lomond and its islands, along with rolling woodlands and farmlands. The view gets even more expansive as you get closer to the top, encompassing the Arrochar Alps and Ben Lomond.
The hike is relatively brief, taking around 45 minutes to an hour to the summit, although steeper sections might be challenging for smaller children. Hiking Conic Hill ranks among the quintessential things to do in Balloch, with sensational views of the surrounding area.
West Loch Lomond Cycle Path
If exercise and scenic views pique your interest, then a trip down the West Loch Lomond Cycle Path is a must. The path is relatively flat, providing ideal biking for all ages and skill levels. While the entire length of the trail is over 28km, you can jump on/off at any point.
The route passes many other attractions on this list, including Sea Life Aquarium, Loch Lomond Bird of Prey Centre, and Tree Zone. If you are interested in combining activities while taking in some stunning shoreline scenery, renting bikes and hopping on the path to get from point A to Point B is a great way to go.
With so much to do and see around Balloch, a trip down the Cycle Path is a great way to take in the region while keeping costs to a minimum.
Geilston Garden
Geilston Garden is an over 200-year-old garden camped on the banks of the River Clyde. The sensational landscaping and vibrant colours make for a peaceful outdoor sanctuary that is perfect for a family stroll.
In addition to colourful plants, the grounds also feature lush gardens filled with fruits and vegetables. Depending on the time of year, the kitchen garden offers up an array of fresh produce. The grounds are also a popular venue for private events and weddings.
While adults will enjoy the tranquillity, kids will also find entertainment running around the floral mini maze and visiting the designated play area.
St. Peter's Seminary 
Just a short 20 minute drive away, St. Peter's Seminary represents a modern marvel that is well worth exploring. The chapel is recognised as "the world's first intentional modernist run," with the dramatic architecture making for a truly unique backdrop that is well worth exploring.
While it is seemingly in a constant state of flux, the seminary is popular among artists featuring famous exhibitions. One of them is Hinterland, a hauntingly vibrant and colourful display that highlights the seminary's vacant interior.
Visit Balloch
Another great option to consider when planning your trip is how easily accessible Balloch is to Scotland's urban centres, including Glasgow and Edinborough.
Balloch makes an excellent destination for a weekend trip, but with so much to offer, you could easily plan a week-long vacation.
See for yourself, and start planning your trip to Balloch today.