Have you decided your next holiday simply won't be complete without a camping trip in Scotland? Perhaps you want to spend a day or two by the shores of Loch Lomond. Or maybe you're looking for a glamping experience complete with all the modern features. 
Whatever your preference, Loch Lomond and the Trossachs surely has what you're after. But which campsites are most likely to suit your needs? Keep reading for a look at the 16 best campsites in Loch Lomond and the Trossachs. 
1. Blair Drummond Caravan Park
As far as unique campsites go, there's little better than Blair Drummond Caravan Park. It's a quaint campground inside an old walled garden, giving it a secluded, private atmosphere. This site offers pitches for tents and tourers. If you want a sturdy roof over your head, you can book one of their shepherd's huts.
Blair Drummond is an ideal choice if you want to be able to travel between the Trossachs and the Scottish Highlands with ease. It straddles the two regions, so you won't have any difficulty touring both. The park is dog-friendly, too, so feel free to bring your pet.
2. Luss Caravan and Campsite
Another excellent campsite on the shores of Loch Lomond is the Luss Caravan and Camp Site. It's a 90-pitch camping facility just outside the Luss Conservation Village. It welcomes all campers by providing a mix of freestanding and hardstanding pitches. Both primitive campers and tourers will be right at home.
Some of Luss' best features are its showering and toilet facilities, proximity to Loch Lomond, and lush scenery. And if you want to bring your four-legged companion with you, Luss welcomes dogs on the campsite grounds.
3. Keltie Bridge Caravan Park
When you want the most memorable Loch Lomond and the Trossachs experience, camping inside the National Park is your best bet. Keltie Bridge Caravan Park is situated inside the park within walking distance to the quaint village of Callander.
This award-winning park is just a short drive to most major motorways and sits on the river just off A84. It offers 27 pitches for tourers and tents, and it also has a few camping pods if you're in the mood for a bit of glamping. A nearby amenity block has toilets, showers, sinks, and laundry.
4. Beinglas Farm Campsite
Beinglas Farm Campsite gets its name from its prime location at the foot of Ben Glas. Ideally located in the Loch Lomond and the Trossachs National Park, this full-service site has everything you need for a great trip. You can choose from cabins and pitches or book a room at the on-site bed and breakfast.
There's also a bar and restaurant on the property that are perfect for winding down the day. In addition, you'll be right near the main bus route, giving you easy access to every local attraction, including hiking, biking, and watersports. The only thing to remember is that Beinglas doesn't allow fires on-site, so you should plan accordingly.
5. Lomond Woods Holiday Park
Lomond Woods Holiday Park will be precisely what you need if glamping is on your itinerary. This site is ideal for glampers, caravans, and tourers looking to enjoy the outdoors without missing out on modern luxuries. In addition to hardstanding pitches, you can choose between cabins, lodge rooms, and camping pods.
Lomond Woods is located right inside Loch Lomond and the Trossachs National Park. You'll have quick and easy access to beautiful Loch Lomond and the rest of the Stirling countryside. What's best is that Lomond Woods is open for visitors all year, so whether you want a winter or summer holiday, you'll have a perfect glamping spot.
6. Maragowan Caravan Club Campsite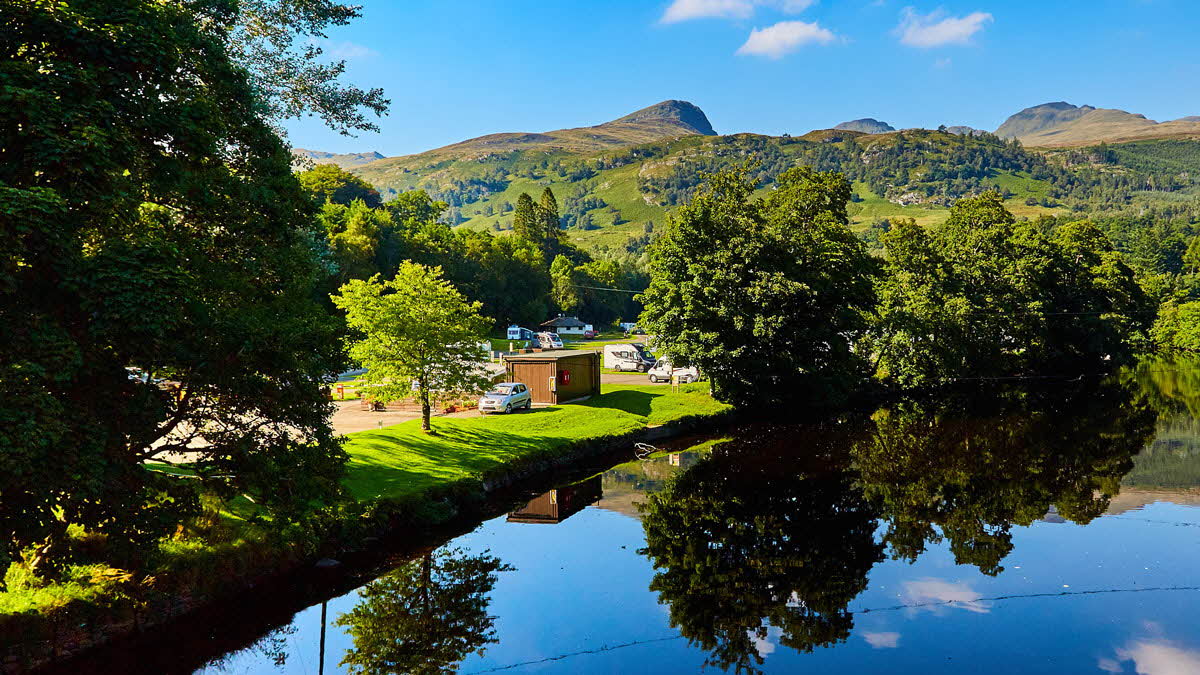 Maragowan Caravan Club Campsite sits on the River Lochay in Killin. It's the perfect campsite for traveling cyclists because it's quite close to the National Cycle Route 7 and the Rob Roy Way. It's also dog and family-friendly, making it ideal for any camper.
Maragowan has tent and touring pitches and camping pods, many of which have electric hookups. There's a golf course nearby if you want to do a round, and the river is perfect for fishing. If the little ones need to burn some energy, you can take them to the on-site playground.
7. Glen Dochart Holiday Park
Glen Dochart Holiday Park is located in Perthshire just off A84 and north of Killin. This family-owned site caters mainly to tourers. You can purchase or rent caravans or book a pitch and bring your own. 
All touring pitches have electricity, water, and drainage. The tent pitches have electric hookups, but you'll need to go to the facility block for water. You'll find toilets and showers there, too. This is ideal for caravan campers, but tent campers might want to choose a different option.
8. Cobleland Campsite
Cobleland Campsite is a 126-pitch facility in Queen Elizabeth Forest Park. It's one of the most serene and picturesque areas in the Trossachs. Cobleland offers tent campers and tourers running water, toilet, and showering facilities.
Cobleland sits on the River Toth, conveniently located near the Trossachs National Park. It's also quite close to Ben Lomond, one of the loveliest peaks around, and Loch Lomond, where you'll find everything you need for a great stay.
9. Lagganbeg Holiday Park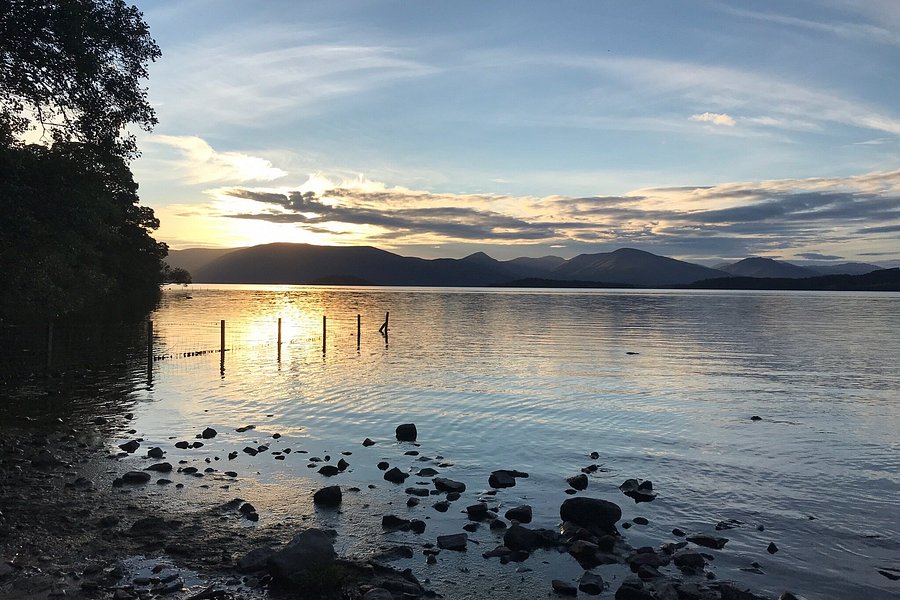 You'll find Lagganbeg Holiday Park on the southeastern edge of Loch Lomond. This site offers hardstanding pitches for tourers and caravans and tent pitches for campers who prefer more primitive accommodations. There are also a few cabins available that sleep four guests comfortably. Amenities include showers, toilets, and laundry facilities.
Lagganbeg is the perfect base if you want to explore the Trossachs. It's near the John Muir Way, which is quite a draw for avid cyclists. It also gives you quick and easy access to everything in the Loch Lomond region, including sightseeing, sports, and dining.
10. Sallochy Campsite
Another lovely place to camp to the east of Loch Lomond is Sallochy Campsite. This primitive-style site is inside the Loch Lomond and the Trossachs National Park, giving you the best holiday backdrop you could ask for. The views from Sallochy are stunning and provide panoramic glimpses of the Arrochar Alps.
There aren't any shower facilities at Sallochy, so keep that in mind when you book. However, you'll have access to drinking water and composting toilets. This site is truly meant for those who want a more natural camping experience. If that's what you're looking for, you'll be right at home at Sallochy.
11. Loch Chon Campsite
Nestled in the woods of the Trossachs is Loch Chon Campsite, a haven for outdoor enthusiasts everywhere. It's another of the Trossachs' best primitive campsites, providing an all-natural setting with only the bare necessities. There are a limited number of tent pitches, all of which have access to toilets and water for drinking and washing.
Loch Chon is located inside Loch Lomond and the Trossachs National Park, so you'll have no shortage of things to do. You can head to the nearby villages for some shopping or dining, or choose any number of outdoor activities to pass the time.
12. Callander Woods Holiday Park
Another excellent glamping option in the Trossachs is Callander Woods Holiday Park, located in the picture-perfect town of Callander. Callander Woods offers caravans for purchase for campers who'd like to own their own space. Or, if you prefer a brief stay, you can book a caravan, glamping or camping pod, or a room at the lodge.
Ideally placed between the Trossachs and the Scottish Highlands, Callander Woods is the perfect place to stay if you want to explore two of Scotland's most revered regions. The most considerable difficulty you'll have is deciding which to see first.
13. Strathfillan Wigwam Village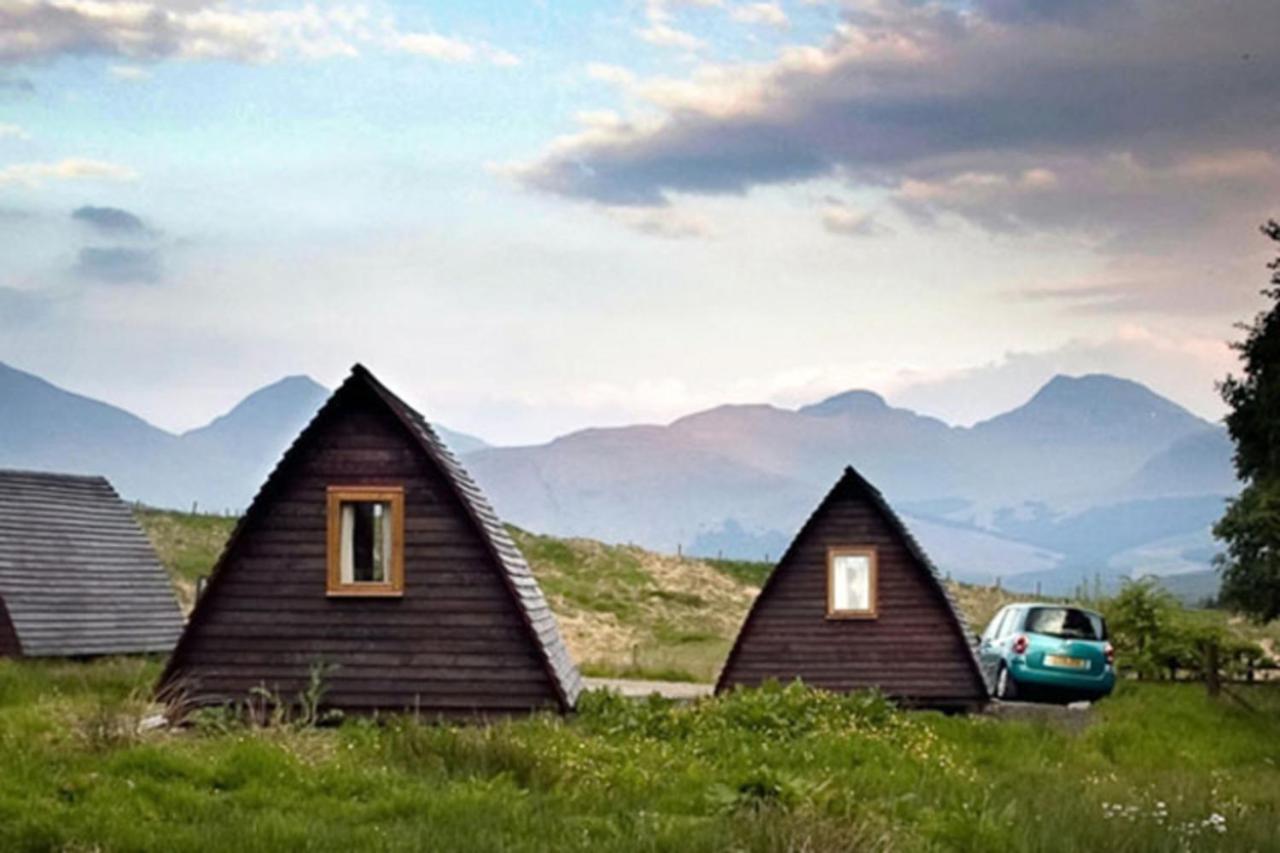 As far as glamping options go, you honestly can't go wrong with Strathfillan Wigwam Village in the West Highlands. It's perfectly placed inside the Trossachs National Park to give you access to some of the most picturesque regions of Scotland, not to mention the best amenities. Strathfillan is the perfect place to enjoy a glamping experience in a gorgeous wooded environment.
Guests at Strathfillan will enjoy private sleeping accommodations in their Wigwam cabins. Shared dining and cooking facilities are nearby for everyone to use. And if you forgot anything at home, don't worry. A shop on-site will have everything you need for your stay.
14. Cashel Campsite
Cashel Campsite is a 168-pitch campsite located on the eastern shores of Loch Lomond in Queen Elizabeth Forest Park. It's lovely and mainly undisturbed, so it offers heaps of serenity and picture-perfect scenery. In addition, its proximity to West Highland Way gives you easy access to several outdoor activities.
Cashel has most of the modern amenities you'd need for a trip. There's a restaurant and small shop on-site and showering and toilet facilities available for all campers. In addition, it's dog-friendly, so feel free to bring your pup along. This site is open from April through October.
15. Trossachs Holiday Park
The Trossachs is a vast area, and Trossachs Holiday Park is an excellent choice if you want to explore it all. With tent and hardstanding pitches and rental homes, this 40-acre campsite has something for everyone.
This campsite is conveniently located in the Stirling countryside, just a stone's throw from all the best attractions and amenities. Loch Lomond is close by, giving you access to water sports, shopping, and dining. Back on-site, you'll have plenty of modern conveniences, including laundry, shower, and toilet facilities.
16. Milarrochy Bay 
If you want a campsite near West Highland Way, Milarrochy Bay is a great option. It offers a mix of grass and hardstanding pitches, plus a few safari tents if you feel like glamping. 21 of the pitches have electrical hookups, so you'll want to reserve ahead of time to make sure you get one.
Milarrochy Bay sits right on the eastern shore of Loch Lomond, so you'll have easy access to everything Loch Lomond and the Trossachs offer. Dining, shopping, and sightseeing will be a breeze. Milarrochy is open April through October, so it'll be the perfect base camp if you want to get some hiking in.
Which Loch Lomond and the Trossachs Campsite Is Best for You?
The campsites on this list surely make choosing where to stay a tough task. No matter which campsite you end up visiting, you can be sure it'll meet your needs, give you a wonderful Trossachs experience, and leave you with fond lasting memories of your time there.